Italy in Scotland – Natacha & Valerio and their scottish wedding
On the 19th of September 2021, I was honored to film the wedding of the beautiful Italian couple Natacha and Valerio. It wasn't a destination wedding as in this occasion Italia came to Scotland and this is how I met Natacha and Valerio.
their wedding venue and my approach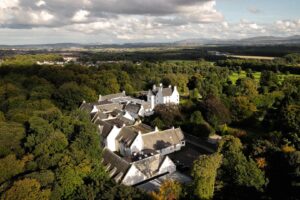 The wedding took place at the MacDonald Houstoun House, a luxury four-star hotel in Uphall, Broxburn set between twenty-two arches of beautiful woodlands. I had a fantastic connection with the couple, and it has really shown through in the wedding film as everyone was so relaxed.
Every couple is different when it comes to their filming requests, some are keen for their entire day to be filmed while others would prefer for only certain parts to be caught on film. When it came to Natacha and Valerio, they asked that I covered the videography for their wedding ceremony as well as a video session and wedding preparations, an add-on service that I provide.
As a wedding videographer I am always curious to know how couples meet. When I discovered that Natacha and Valerio are a romantic couple, I came up with the idea of them writing each other love letters and each of them reading it to me while I filmed it. The couple each individually read their letters to me in Italian which added to the romance and really captured the raw emotions of their love for one another. It was wonderful to witness such an intimate, emotional moment with both Natacha and Valerio and to see their love for one another expressed through words.
What made this so magical was that the love letters were a surprise to the couple and the first time they heard each of their letters was while watching back the wedding video. I thought this was a special unique moment to capture so that the couple would have a continuation of their wedding day once the day itself was over.
Natacha and her playfull nature
Natacha's cheeky playful nature came through in the wedding day as she had arranged a prank with her bridesmaids that she would play on Valerio while they were exchanging their vows at the altar. Natacha pretended to be unsure when it came to her turn to say, "I do." To Valerio's confusion she walked over to consult her bridesmaids before walking back to Valerio and lifting his kilt and continuing to consult with her bridesmaids.
The prank concluded with her turning to her guests who signalled to her with placards cheering her on that she should marry Valerio.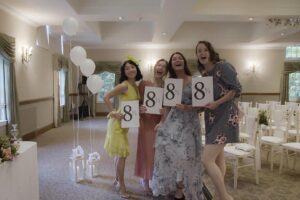 This was an extremely funny and unique experience and really helped to loosen everyone up including Valerio. It was fabulous to catch on film as Valerio's facial expressions were priceless! Natacha joked that this was revenge for Valerio taking so long to propose to her!
A particular filming highlight for me was being entrusted with Natacha's beautiful wedding gown to film it swaying by the wind on an oak tree.I have always wanted to capture this shot and I am so grateful to Natacha for allowing me to bring this vision to life. The shot came out so well in the film and really gave the dress its own moment to shine.
Natacha had taken command of most of the wedding decorations, and she came up with the idea of carrying white balloons during the shoot. This really added to the fun atmosphere as we shot in the beautiful leafy grounds of the luxury hotel. Valerio's rich blue tartan kilt along with Natacha's beautiful fuchsia bouquet of flowers really added a pop of colour against her white wedding gown.
I believe that a great relationship between clients and videographers really helps to make the wedding day even more fun as everyone is much more relaxed and comfortable and this reflects in the wedding film. Having a solid trusting rapport is important as you will be spending the whole day together and sharing in intimate moments of one of the biggest life events.
I built a wonderful relationship with both Natacha and Valerio, and it was an honour to film their big day and provide them with lasting memories that are captured on film. I have built a long-term friendship with the couple and look forward to catching up on how married life is treating them.
Watch their wedding film here
While the last two years of our lives have been put on pause due to the COVID-19 pandemic, thankfully love...
Read More