Angela & Sergiy and they fairytale wedding day
While the last two years of our lives have been put on pause due to the COVID-19 pandemic, thankfully love has continued to prevail. Angela and Sergiy are a true testimony to the unbreakable bonds of love and were adamant that nothing was going to come between them and their big day.
For the couple, the pandemic was just another hurdle in their love story as they had navigated a long term relationship between Scotland and Mallorca. Angela and Sergiy originally met thanks to friends in a study group and as the couple got to know each other, it was not uncommon for them to stay up chatting to each other throughout the night via video calls rather than sleeping.
Like a true fairytale story, Sergiy organised a romantic proposal by inviting Angela to come and visit him in Spain and proposing on her birthday. Sergiy left his life in Spain to pursue a life in Scotland with Angela and the couple chose the 16th of July 2021 as their wedding day.
Due to the COVID-19 restrictions at the time, the couple were forced to scale back their guests to a modest 10 including both of their photographers and I. Angela and Sergiy had their wedding at Chatelherault Country Park, a five-star visitor attraction just outside Hamilton in South Lanarkshire.
The 18th Century Hunting Lodge
The Georgian 18th Century Hunting Lodge is located at the top of a grand hill and overlooks a breathtaking view across the Clyde Valley and the beautiful grounds of the country park. It was an excellent location for me as a destination videographer as I was able to experiment by using a drone to capture the different angles of this Scottish wedding.
A little bit about their day
The day started with Angela and her bridesmaids getting ready at the hotel. Along with Kathryn and LLoyd the photographers I took advantage of capturing the beautiful sunlight that reflected itself on Angela's wedding gown and the arrangement of delicate flowers in her hair.
The couple were transported to the wedding venue by a stunning carriage complete with white horses that Sergiy had personally arranged for his wife – a modern fairytale wedding. Before the ceremony, the couple chose to have a first look together before getting caught up in the magic of their big day. I assisted Sergiy into the room while he had his eyes shut and it was a truly wonderful moment to witness the couple's reaction to seeing each other for the first time on their wedding day and have it filmed.
As lovers of birds, Angela and Sergiy were keen to incorporate some feathered friends within their big day. A magnificent white owl called Henrix brought the couple's wedding rings down the aisle and at the end of the ceremony, they both released a white dove as a symbol of their love.
Angela had taken command of organising all of the intimate details of the wedding such as the beautiful soft pink and cream real flowers and table decorations which added her stamp to their wedding day. I enjoyed filming lots of clips of the couple and their wedding party within the idyllic maze.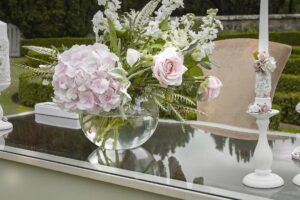 together we can more - amazing Teamwork
I truly enjoyed working alongside the talented photographers Lloyd and Kathryn as we all worked in unison to ensure that each of us got the shots that we needed. Kathryn and I even assisted Lloyd by covering a window with our backs so that he could have his special photos of the couple without sun spells ruining the lighting.
In other words it was a pleasure to film Angela and Sergiy's intimate wedding, they are a truly special couple and I wish them well in their married life!
Watch their wedding film here
While the last two years of our lives have been put on pause due to the COVID-19 pandemic, thankfully love...
Read More